I've been swooning over these mirrored nightstands since I first saw them in Z Gallerie several years ago...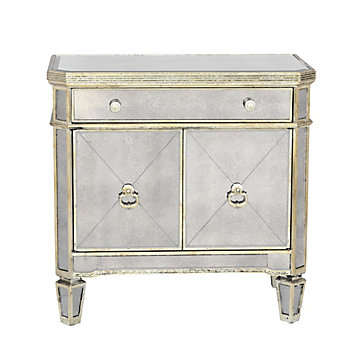 I LOVE them, but unfortunately their price tag kept me away from making a purchase. I've been on the hunt for a more affordable look-a-like ever since.
TJ Maxx
has carried them before, but they were always too small or had something wrong with them (like a huge crack down the side - no thank you!). Thank you
Craigslist
for allowing me to find and purchase my favorite pieces of furniture to date! My patience finally paid off and these were half the price of the Z Gallerie ones I first fell in love with!
Unfortunately, my hubby hasn't been feeling too well, so these are sitting in my living room right now until his ankle goes back to it's normal size and he is able to move our old furniture out and these beauties in. :) Addi loves them as well...every time she walks by them she has to stop, look in the mirror and sing a song or make a silly face - haha!
I'm slowly but surely making progress in our bedroom makeover. The walls have been painted grey, black curtains have been hung and nightstands have been purchased. Now I'm on the lookout for a black/grey/metal king size bed and a dresser to match. I've played around with the idea of buying some Annie Sloan chalk paint and painting the dresser we have, but I've decided that's too much work and I would much rather buy one already complete! Back to Craigslist I go!